By Courtney Pittman
Smart, cute, cheap to build (generally speaking) and easy to maintain, small house plans (typically less than 2,000 square feet) showcase convenient features and stylish exteriors. Whether your clients are seeking a starter home or looking to downsize, these simple house plans are sure to catch their eye. With open floor plans and up-to-date amenities, it's no wonder small house plans are gaining more and more popularity with homeowners today. Another perk? Small house plans are cheaper to heat and cool thanks to their modest footprint. Let's take a look at some of our favorite simple house plans and small home plans.
Click here to view our collection of small house plans and simple house plans and open floor plans. Questions? Call 1-877-222-1762 today.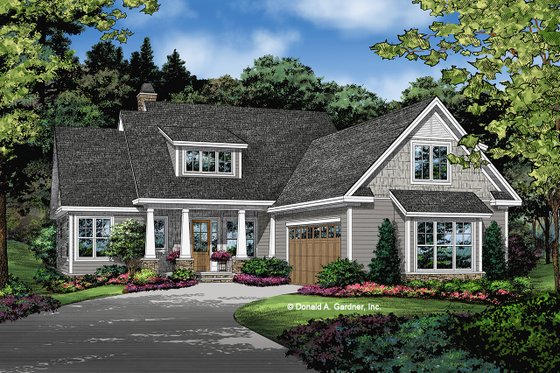 Plan929-1084
Modern and elegant, this 1,948-square-foot design displays an open layout with many thoughtful details. For example, the third bedroom sits near the front and includes two points of entry (one to the foyer and the other to the hallway), meaning that it functions equally well as a home office or sleeping zone. On the left side of the home, the master suite features skylights in the bedroom and a private bathroom with a huge walk-in closet.
The center of the home feels open and kitchen-focused, perfect for relaxed gatherings. A bonus room upstairs adds the possibility of future expansion. See plan 929-1084 online.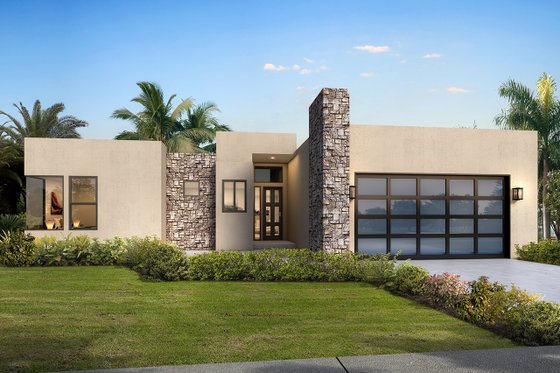 Plan1073-6 Smart design choices make this small house plan live large. The open floor plan between the great room and kitchen creates an easygoing flow and allows the home to feel larger than it is. A fireplace warms the great room and adds cozy charm in fall and winter. Don't miss the large laundry/mudroom! See plan 1073-6 online. 
Plan 1073-5
Big style on a realistic budget: this chic home has 1,417 square feet, making it a striking choice for downsizing, starting out, or simply keeping things manageable. The open layout includes two beds and baths. A covered patio at the rear of the home makes indoor/outdoor living a piece of cake. See plan 1073-5 online.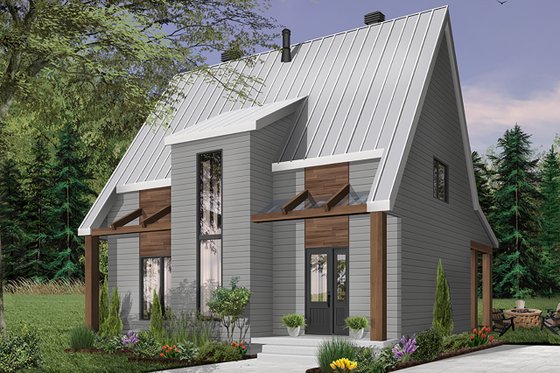 Plan23-2682
It doesn't get much more open than this layout, which gives you a free-flowing entertaining space on the main level and three bedrooms (including the private master suite) upstairs. Need more space? The basement can be finished for an additional 938 square feet. See plan 23-2682 online.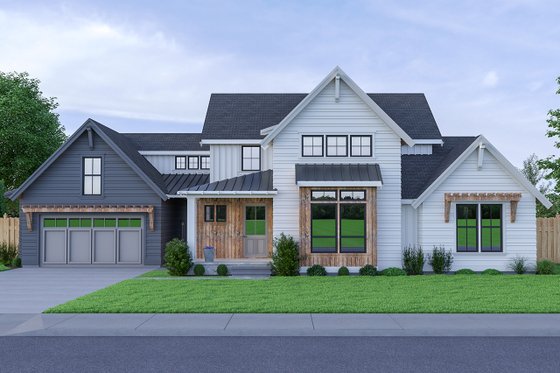 Plan1070-34
Hello gorgeous! This brand-new plan shows off cool modern styling, including metal roof accents. Inside, the layout is simple and open for a contemporary feeling. The master suite is easy to reach on this level and features a five-piece private bathroom. See plan 1070-34 online.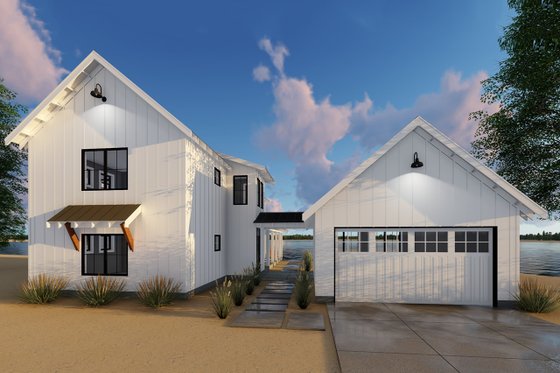 Plan410-248
Who needs much more than a great room and a big kitchen? This modern farmhouse keeps it extremely simple with a classic barn-inspired look, but that doesn't mean a lack of "wow" moments.
A soaring ceiling in the great room combines with abundant windows for an airy feeling, with the loft overlooking this space. Two sets of French doors lead out to the wraparound porch. The master bedroom is easy to reach on the main floor and sits next to a full bathroom, while the second bedroom upstairs can hold guests, kids, or crafts. See plan 410-248 online.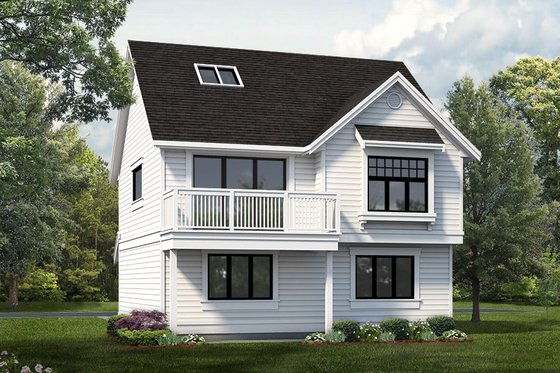 Plan47-1079
This cottage style garage plan sports wood siding and both a porch and upper-level deck (hello outdoor-living!). A two-car garage completes the first level, while a spacious 773-square-foot apartment rounds out the second level.
The apartment features a large living and dining space that enjoys a skylight and access to the deck. The U-shaped kitchen features all the amenities for small-scale living. A full bath and a bedroom make this home design great for homeowners who are looking to downsize, have a guest house, or a small space to rent out. See plan 47-1079 online.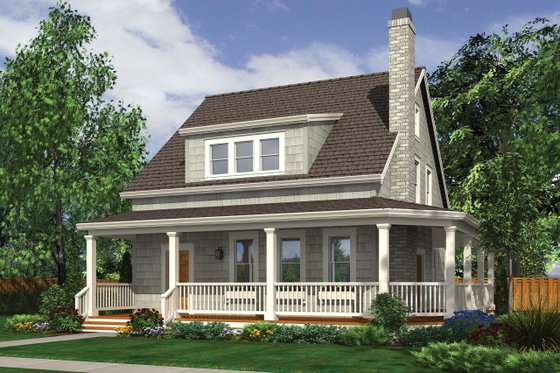 Plan 48-572
The vast wraparound front porch is a major highlight of this small house plan design and is the perfect location for evening porch hangs. Double-hung windows add character and plenty of natural light.
Inside, a modern (and open) interior provides convenience and casual living space. Clients can warm up in the living room next to the cozy fireplace or kick back and relax in the sizable media room. They can also store everyday items such as backpacks, keys, coats, and shoes, in the mudroom just off the back porch. See plan48-572 online.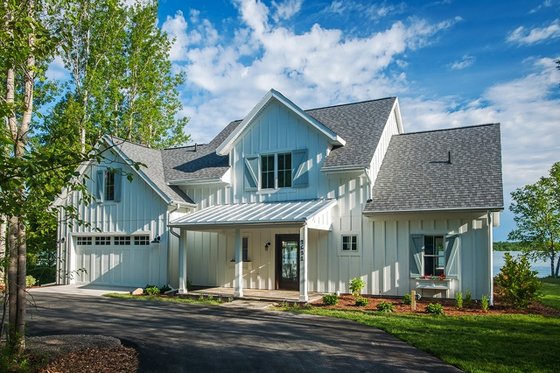 Plan901-132
Perfect for those who love to entertain, this plan gives you all the options. A welcoming front porch brings you into a stunning living, dining, and open kitchen area which all open to a rear covered porch.
Bright and white, this modern kitchen features a sizable kitchen island and plenty of counter space for cooking up some yummy meals. Conveniently located on the main floor, the master suite offers homeowners extra privacy. The second level offers two additional bedrooms that share a bath and an open loft area that could be used as a home office, playroom, media room, bunk room, craft area, etc. See plan901-132 online.
Plan895-108
This 1,639-square-foot design keeps things modern and simple, with a big open living area that flows nicely into the kitchen, where everyone will gather around the island. The master suite invites homeowners to unwind in the big shower or pick out an outfit in the large walk-in closet. See plan 895-108.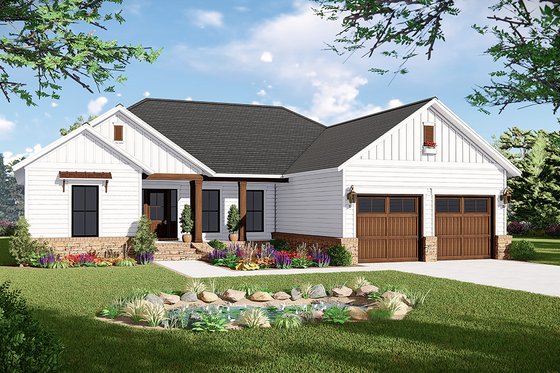 Plan21-454
This small house plan feels fresh and current, with vertical and horizontal siding and a cute metal roof accent adding modern farmhouse flavor. Inside, a vaulted ceiling gives an airy feeling to the great room and dining area, with the island kitchen overlooking it all. 
Owners will enjoy their five-piece master bathroom. Clever storage details include space for linen in the hall bathroom, a counter for folding in the laundry room, and extra storage in the garage.  See plan 21-454 online.
Browse our collection of small house plans and simple house plans.
Explore open floor plans here.
Questions? Call 1-877-222-1762 or contact us here.