By Courtney Pittman
Classic and cool, the modern farmhouse trend continues to be red-hot when it comes to home design. With sleek lines, country kitchens, and wide porches, these impressive house plan designs bring to mind an old-fashioned sense of home – and we are here for it. We've gathered our most popular (and new) single story house plans that boast farmhouse flair and rustic charm.
Click here to browse our collection of farmhouse plans and single story house plans.
With these one story house plans, homeowners will be able to efficiently utilize space and create a home that works well into the future. The practicality of one story house plans is undeniable — with living spaces on one level and no stairs to navigate, they handle aging in place with ease. Whether your clients are looking for their dream home or just some eye-candy, these 1 story house plans (with farmhouse details) are sure to catch their eye.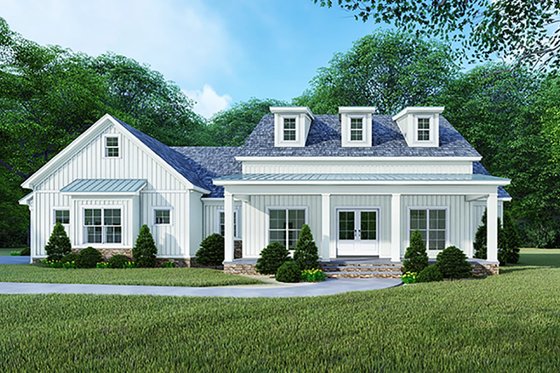 Plan 923-122
Kitchens can make or break a home. This one? Magnificent. The island seats up to six people, so you can fit a whole party here without breaking a sweat. Let guests wander into the great room, and then out to the grilling porch. The guest suite is ready for longer visits. See plan 923-122 online.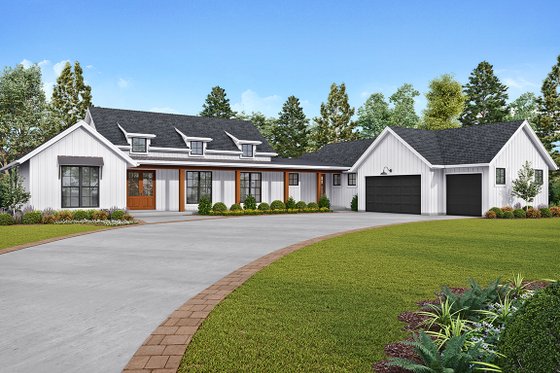 Plan48-943
How open of a layout do your clients want? If the answer is "as open as possible," then this just might be the farmhouse for them. The kitchen island overlooks the large living/dining area, with large openings to the rear porch making it easy to step outside (and to host a fantastic summer party). Don't miss the walk-in pantry! A handy mudroom just off the three-car garage keeps things clean and tidy. Homeowners will enjoy the private master suite on the left wing of the floor plan. See plan 48-943 online.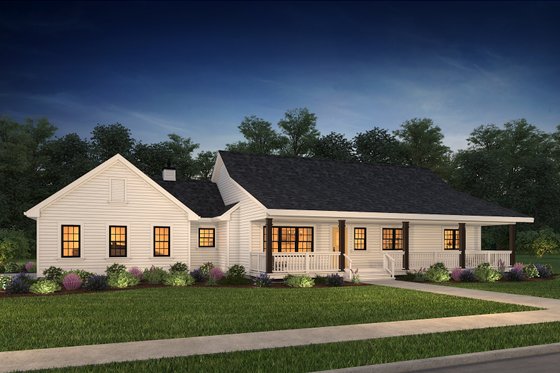 Plan47-1023
This graceful single story house plan offers relaxed, outdoor-focused living and plenty of thoughtful touches. Vaulted ceilings in the great room, country kitchen, and master bedroom add a dimension of extra space. Relax in the master suite's tub, where a bayed window gives a lovely view of the backyard.
You'll also find two sinks, a separate shower, a walk-in closet, and French doors to the rear porch here. Don't miss the spacious laundry/mudroom, the kitchen's desk, and space for a freezer in the two-car garage. See plan 47-1023 online.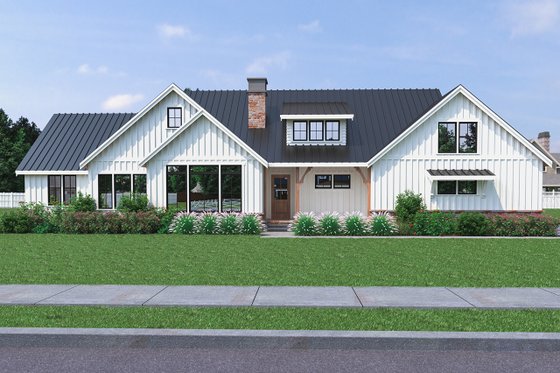 Plan1070-31
Farmhouse-inspired styling feels perfectly contemporary for this single story house plan. Inside, the kitchen boasts both a large island and plenty of counter space, with the all-in-one dining room within view. Each bedroom sports a full bathroom for extra convenience. See plan 1070-31 online.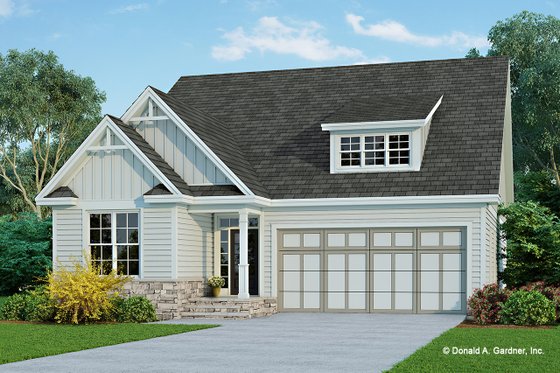 Plan929-1083
Privacy and togetherness find the right balance in this slim-lot design, which gives the master suite its own corner and encourages everyone to have fun together in the open great room.
The kitchen sports an island and overlooks the open, bright dining area (check out the skylights). Barn doors leading to the secondary bedrooms add a cute, rustic touch. For visiting relatives or an older child, the bonus room can become a spacious suite. See plan 929-1083 online.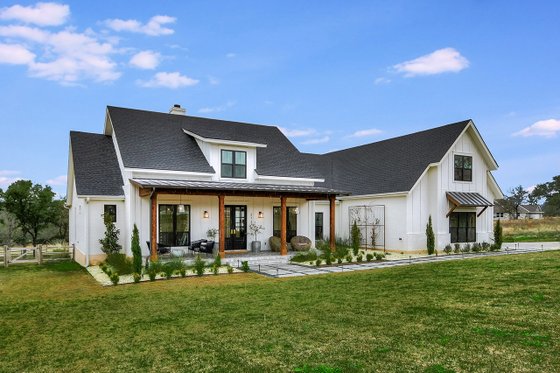 Plan430-156
This contemporary version of the classic farmhouse displays eye-catching curb appeal. A wide porch welcomes visitors inside, where the open layout encourages a relaxed lifestyle. Serve up snacks at the kitchen's island or sit down for an elegant meal in the dining room. Step outside and enjoy outdoor living on the rear porch when the weather is nice.
You'll find tons of storage throughout the home, with every bedroom boasting a walk-in closet and a huge pantry in the kitchen. The master suite's closet opens directly to the laundry room and makes it easy to throw in a load. A large bonus suite upstairs can be finished now or later. See plan 430-156 online.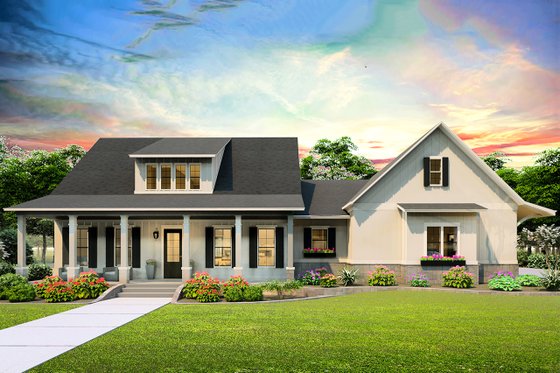 Plan406-9653
This one story house plan feels totally contemporary inside, with an open layout that flows from the great room to the relaxed dining area and into the kitchen. Step out from the kitchen and linger on the big back porch – where an outdoor kitchen makes summer parties a breeze.
The master suite shows off a window seat, walk-in closet, and five-piece bathroom. Upstairs, several large bonus areas invite future expansion. See plan 406-9653 online.
Plan 430-190
This brand-new design gives you a luxurious one story layout with tons of thoughtful amenities. For example, check out the master suite: a large shower can be accessed from two sides, with the tub in front and two separate vanities. The rear porch can host an outdoor kitchen that's ready for summer fun. See plan 430-190 online.
Plan 430-199
Both elegant and easygoing, this single story house plan includes a lot of special details. Take a look at the master suite: the vaulted ceiling draws your eye up, while a large shower, separate tub, and two sinks make your private bathroom feel modern and luxurious.
An open layout makes between the great room and kitchen makes it easy to host and entertain guests, while the dining room is perfect for formal occasions. See plan 430-199 online.
Plan932-33
Ready to relax? This brand-new farmhouse style home plan features 2,095 square feet and a very open layout between the island kitchen and the vaulted great room. The master suite steps out to the back porch, which wraps all the way around the side and to the front. A wraparound porch makes summer entertaining a breeze. See plan 932-33 online.
Plan48-944
With 1,878 square feet, this fresh plan offers three bedrooms and open living spaces. Our favorite part: the kitchen's big island, which creates a natural spot for snacking and socializing with friends and family. The two-car garage boasts plenty of storage space. Like to host and entertain? A rear patio just off the dining room is great for outdoor hangs when the weather is nice. See plan 48-944 online.
Browse single story house plans
Explore Farmhouse home designs