by: Courtney Pittman
Many different types of living situations lend themselves to only needing two bedrooms – single homeowners, starter homes for millennials, couples without children, small families, or even friends sharing a home may all find 2 bedroom house plans just right. 2 bedroom house plans offer the perfect compromise between comfortable living space and modest home maintenance requirements. For increased flexibility, look for 2 bedroom house plans that offer bonus space, which can be converted into extra living room if you decide to expand.
Explore more 2 bedroom house plans here.
Need more room? Opt for a 2 bedroom house plan with an open floor plan. An open-concept approach allows the home to feel bigger and maximize space. Choosing a plan with indoor/outdoor connections (such as spacious front porches or patios) is another smart (and enjoyable) way to extend living space.
Whether built as a simple starter home or a luxurious retirement house, there's 2 bedroom house plans for every budget. We've rounded up some of our most popular and beloved 2 bedroom house plans – you might just find your next home to build!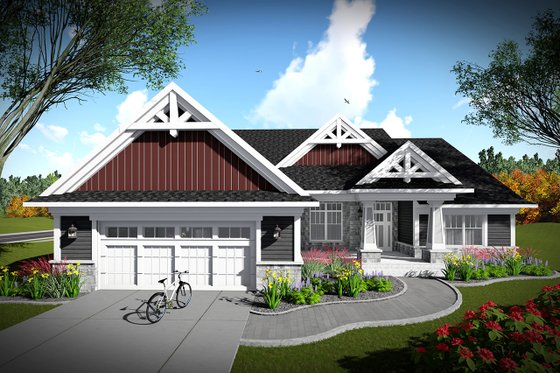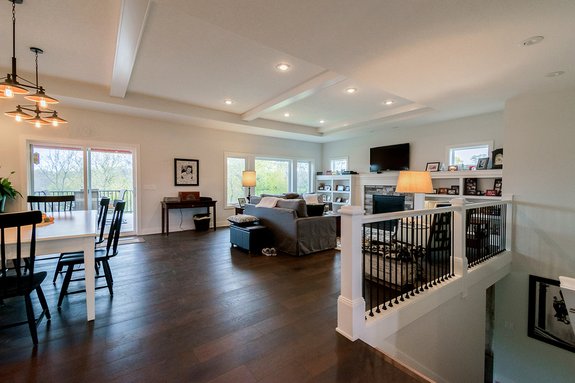 Plan70-1464 (above) is a great choice for millennials buying their first home. With convenience in mind, the open layout (pictured above) between the main living areas makes everyday life easier for busy homeowners in this 2 bedroom 2 bath house plan. The den could serve as a home office, nursery, guest suite, or playroom. A rear covered porch delivers a relaxed attitude and makes outdoor entertaining a breeze (while also connecting the interior and exterior).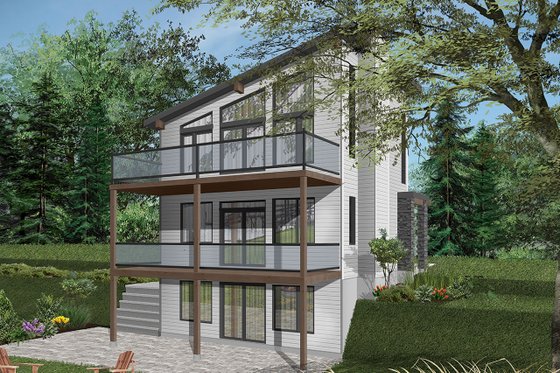 This 2 bedroom house plan (plan23-2660) exudes modern appeal and is great for a sloping lot. An open floor plan promotes easy livability, while a large kitchen makes cooking and entertaining friends and family smooth and functional. A study resides on the main level and could be used as a guest suite, playroom, or extra bedroom. The second level offers two additional bedrooms that share a sizable bath.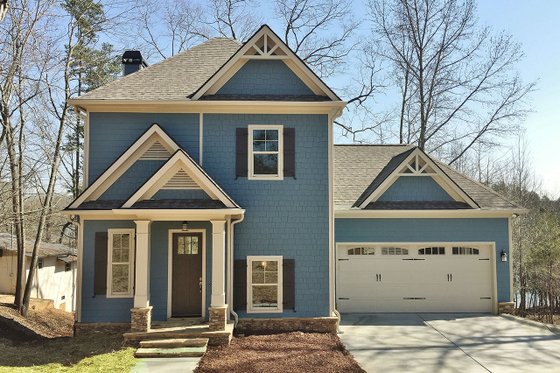 Brimming with character and charm, this 2 bedroom house plan (plan437-91) is extra-inviting and loaded with features and style. Perfect for a narrow (and sloping) lot, this home boasts a small footprint and affordability. Highlights we love on the main level include: the relaxed layout between the kitchen, dining room, and great room, a roomy two-car garage, and a handy elevator.
On the lower floor plan you will find a bedroom, and a rec room that can be used in a variety of ways (like a home gym, movie theater, home office, etc.). Upstairs, a master bedroom features a large walk-in closet, master bath, and a private balcony for added luxury (dreamy!). A laundry room and study are conveniently placed on this level for ease and flexibility.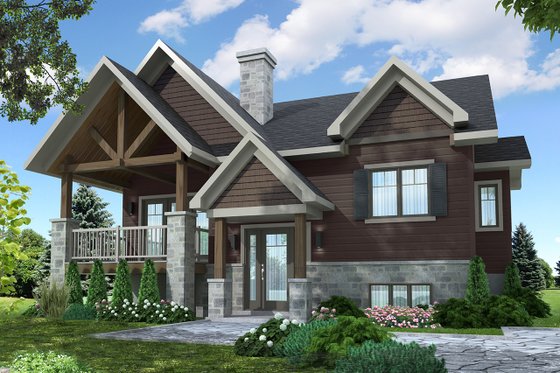 This 2 bedroom house plan (plan23-2654) is the one you've been dreaming of. Craftsman style architectural elements help create a warm feel on the exterior, while the open, contemporary layout encourages movement and a sense of community throughout the main living areas. Enjoy evening hangs on the columned porch (that opens seamlessly to the dining room) with family and friends.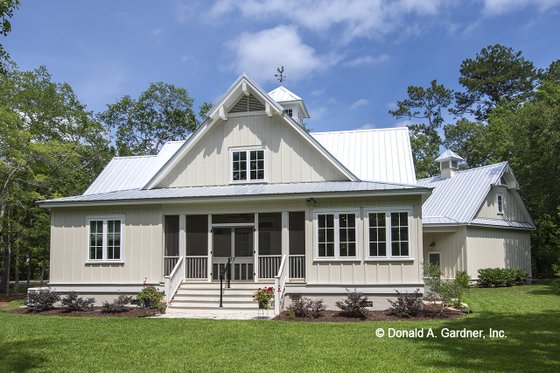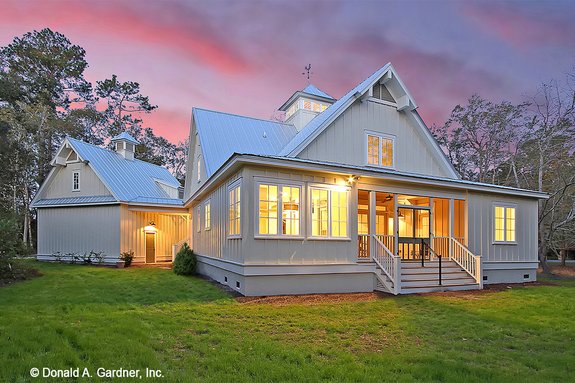 Plan929-807 features an alluring front porch that creates a welcoming entrance (above) for guests. The interior is open, starting with the foyer, dining, and great rooms. A single column defines the perimeter of each room, leaving the area completely open. The great room features custom amenities such as a corner fireplace, two-story ceiling and an easy flow to the porch. Nearby, the kitchen accesses a screened porch and is open to the dining room for easy entertaining. The master suite is at the rear of the home for extra privacy and overlooks the rear porch.
A flexible bedroom/study has its own bath and completes the first floor. Upstairs, a bonus room, loft and bathroom are ideal areas for children, a media room, guest suite, or home office.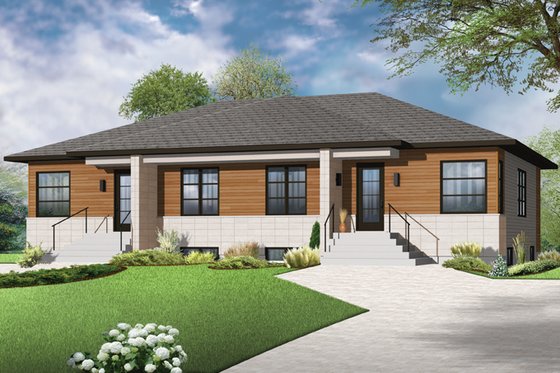 This 2 bedroom house plan (plan23-2692) is perfect for customers looking to build a multifamily home. Each unit has two bedrooms, one bathroom, and an easygoing layout between the main living areas. Home-buyers could use the second unit as a rental property (or use the unit as an Airbnb rental) and have tenants as a source of income to help pay the mortgage (not too shabby).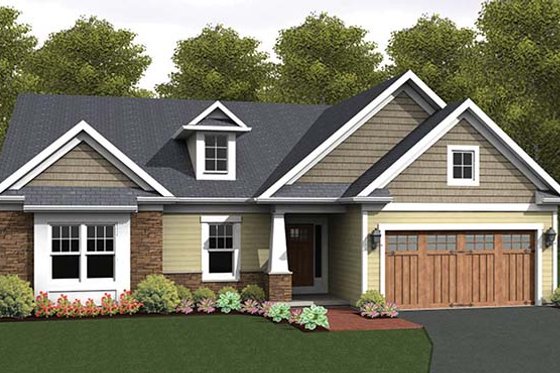 Stone joins shake and wood siding to make a pleasing combination on the facade of this comfortable 2 bedroom 2 bath house plan (hello curb appeal!). This cool design (with a flexible study that can easily become a third bedroom) is a great choice for millennials looking for a starter home, a couple looking to downsize, or a small family.
Step ceilings, a corner fireplace, and a wall of windows looking out to the covered porch, give the open great room lots of interest. The kitchen flows effortlessly into the large dining area, perfect for today's casual lifestyles. A walk-in pantry and mudroom add contemporary convenience.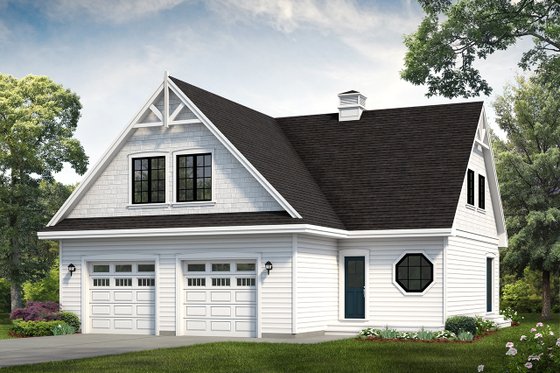 Every inch is put to good use in this garage apartment plan (47-1090). Aside from housing two vehicles, this 2 bedroom 2 bath house plan also features access to a full bath from one bedroom, while the second bedroom is conveniently located next to a powder room.
This efficient design also offers a kitchen, living/dining room, and a laundry area. A rear patio lends more square footage and encourages outdoor living. What's even better – the simple footprint helps make this plan cost-effective to build (score!).
Browse our collection of 2 bedroom house plans here.
Explore our collection of sloping lot plans.
Click here to view our collection of starter homes.