It's not enough to throw a postage-stamp-sized porch on the front of a plan and call it a day. For outdoor living that buyers will really use, consider it from every angle. (Quite literally: think about what the view and sun will be like from each side of the porch.) A wraparound porch gives owners different zones to capture the light. In back, a porch next to a patio offers options for sitting in the sun or shade. Here are some designs with impressive porches.
Ready for Extended Families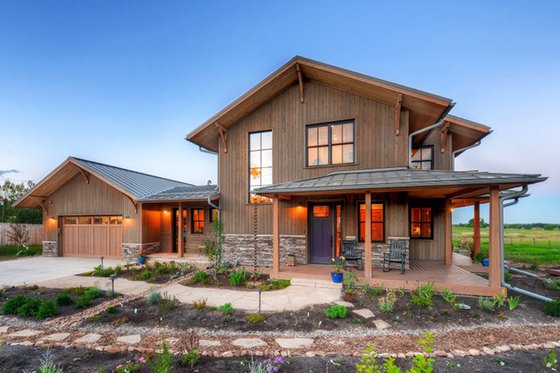 Here's a modern farmhouse that embraces outdoor living in a big way. Porches stretching around three sides of the home provide abundant room for swings and such, while a balcony connects to both upstairs bedrooms. A wall of sliding doors opens the great room up for seamless indoor-outdoor flow, with more sliding doors to the dining room making it easy to step out after a meal. Inside, contemporary details imbue the home with flexibility for all kinds of modern living situations. For example, the guest bedroom on the main level connects to a bathroom with a large shower, making this suite comfortable for an elderly relative. See more images, information, and the floor plans.
360-Degree Porch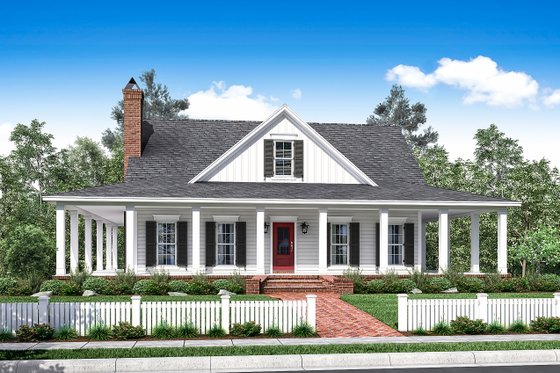 With a porch that wraps around the entire home, this design takes advantage of every viewpoint on a beautiful lot. Clean lines emphasize the elegant simplicity of the farmhouse style. Inside, the open layout flows from the great room (where a fireplace adds cozy ambiance) to the island kitchen. Friends and family will love to relax at the island's bar. Easy to reach on this level, the master suite shows off a luxurious bathroom with a large shower, a tub next to the window, and two vanities, plus a walk-in closet. See more images, information, and the floor plans.
Lanai Life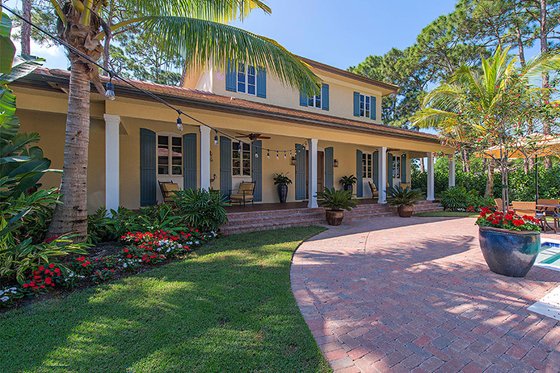 A large courtyard in front and a lanai in back make a great example of indoor-outdoor living. The master suite invites owners to relax in the enormous shower (boasting double showerheads), with two sinks and walk-in closets nearby. Every bedroom features a private bathroom. See more images, information, and the floor plans.
Patio Party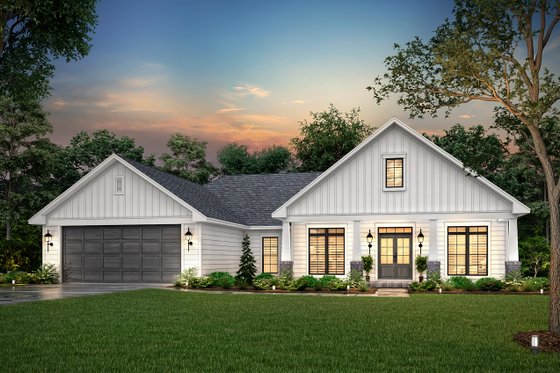 Porches in front and back (plus an optional patio) add lots of outdoor living space. In the heart of the home, the kitchen will become the center of activity with its island and bar providing plenty of prep space. The breakfast nook sits nearby. In front, the dining room can easily serve as a study instead. Lockers line the way inside from the garage, keeping everything organized. See more images, information, and the floor plans.