by: Courtney Pittman
Enjoy the comforts and ease of a one-story home design but desire some extra space? 1.5 story house plans might be just what you're looking for. Smart and functional, these floor plans are becoming a popular layout choice. So what exactly are 1 ½ story house plans? Typically, these flexible home designs offer useful room on the second level of the home where you'll find additional living or storage spaces (such as extra bedrooms, a bathroom, playrooms, or a loft). Many of these homes have secondary bedrooms upstairs, while some feature bonus spaces that can be used now or later.
Browse our collection of 1.5 story house plans here.
1.5 story house plans include Craftsman home designs (usually bungalow house plans with almost all of the living spaces on the first floor and a bedroom or two on the second level), farmhouse designs with room for families, and traditional house plan designs that may feature a large bonus room that you can finish later. Often, the upstairs bedrooms are secondary ones, meaning that they would be used by children or visitors. With many 1 ½ story house plans, you'll find the master suite on the main level for maximum convenience and easier aging in place.
Here are some of our favorite designs that showcase this versatile home style. We can't help but swoon over these 1.5 story house plans.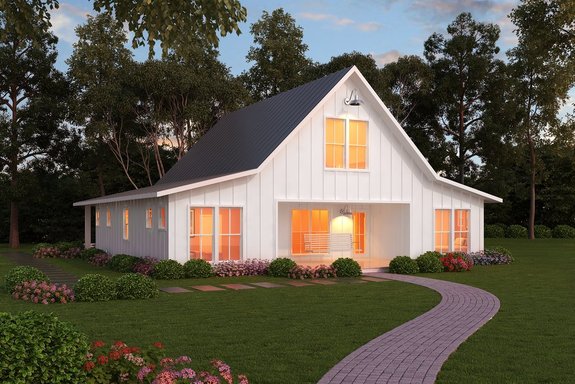 With a focus on space, this modern farmhouse design plan 888-13 has convenience written all over it. Inside, all the living space happens on the ground floor. An open floor plan between the vaulted living room and kitchen (that also features a sizable island and breakfast nook) make everyday living (and entertaining) easy.
Other highlights include: a dining room, sun-room, a study just off the foyer, an owner's suite tucked away from the other two bedrooms for added privacy, and a vaulted rear porch. A loft could be used as a home office or extra bedroom.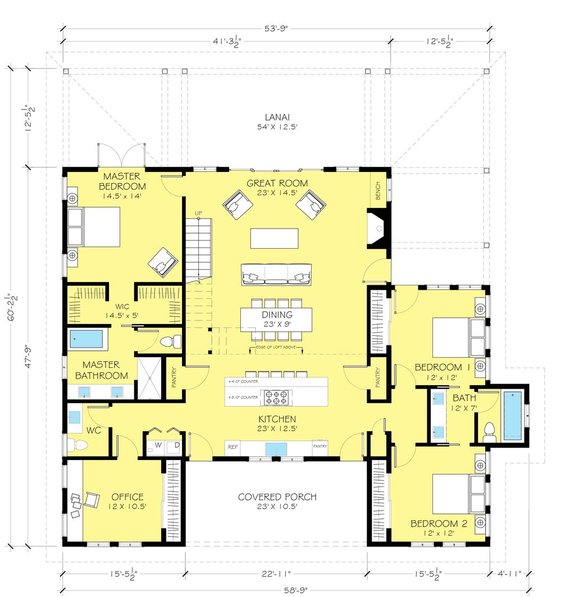 Upstairs, a guest bedroom, a loft/ media room, and an optional bonus area reside. This extra space opens up all kinds of possibilities.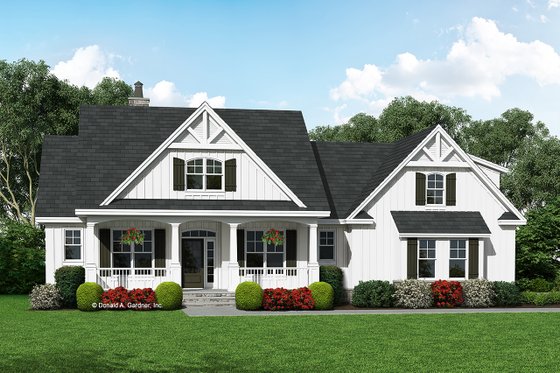 This 1.5 story house plan (plan929-1055) presents a versatile layout that will work well for home buyers in many stages: a couple just starting out, an older buyer paring down and simplifying, or a family who wants a chic and affordable home. A fresh farmhouse exterior delivers major curb appeal. Inside, the open layout invites relaxed entertaining at the kitchen island. The study near the front can easily serve as a third bedroom, especially since it boasts another entrance to the hallway.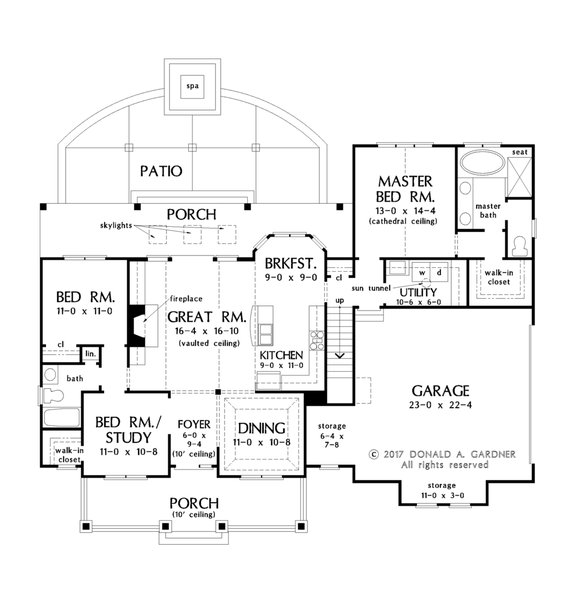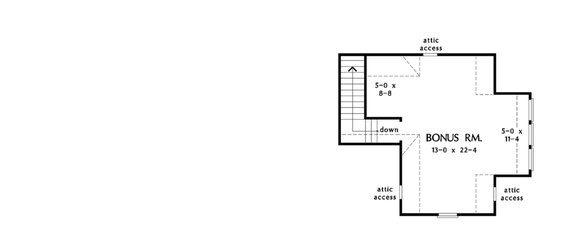 Boasting two sinks, a vast shower, separate tub, walk-in closet, and easy access to the laundry, the master suite exudes comfort and relaxation. A bonus room on the second level could be used as a home office, guest bedroom, play room, home theater…the options are endless!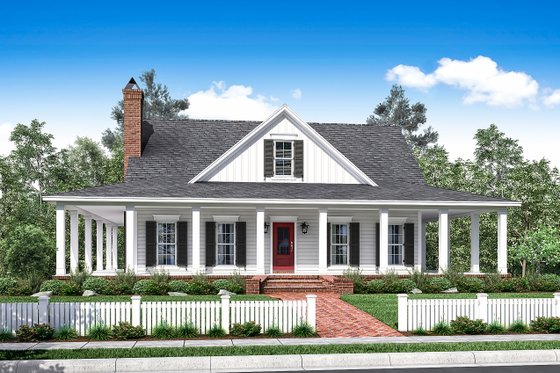 With farmhouse-influenced features (gable roof, elongated windows, wrap-around porches that extend around the entire perimeter of the home, and wood siding), this 1.5 story house plan (plan430-150) is loaded with charm.
Enjoy the enormous great room (complete with a wood burning fireplace and panoramic exterior views) on the open first floor. The kitchen (open to the great room and adjacent to the dining room) provides plenty of space for entertaining with a large island and eating bar.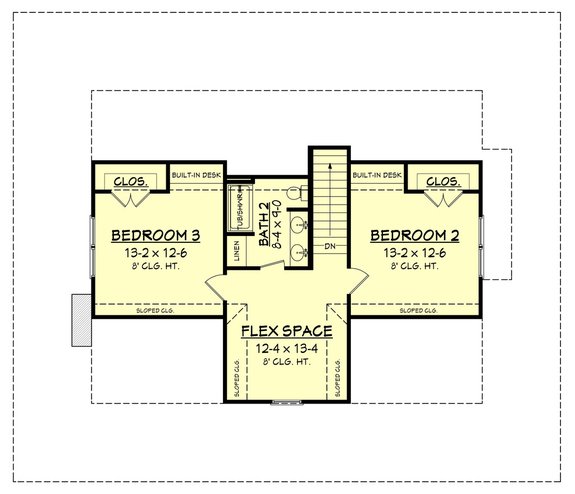 A master suite resides on the first floor, while two bedrooms are divided by an open flex space that is perfect for a study or media area. This unique design (pictured in the floor plan above) works well for all kinds of families; school-age kids or teenagers will appreciate the privacy of their lair up there, away from parents. Similarly, special guests can spread out upstairs.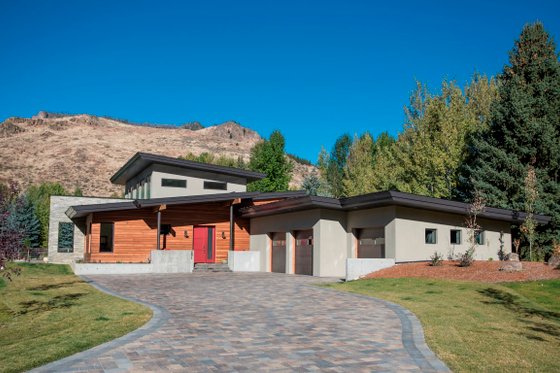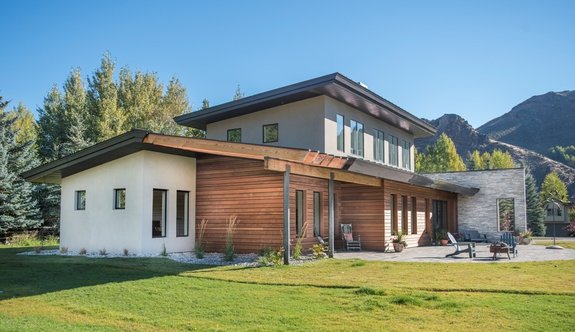 Angular lines and a simple footprint lend a modern approach to plan451-24 (above). Built with Insulated Concrete Forms (ICF), this 1.5 story house plan is energy efficient. Mono pitch roofs coupled with a mix of exterior materials deliver contemporary elements and open up the front facade.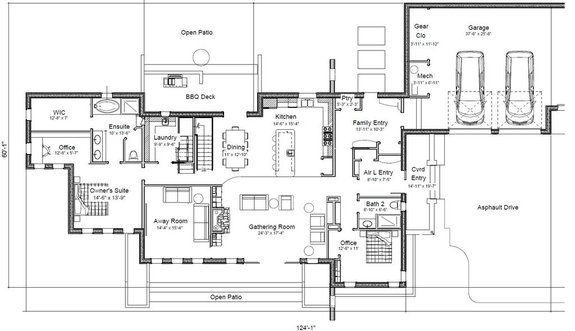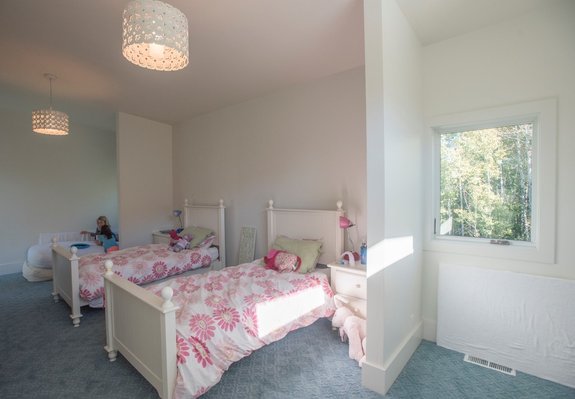 Inside, an easy and open floor plan creates an effortless flow throughout the main living areas. Upstairs, a flex space could be used as a home office or guest suite, while a shared bedroom (pictured above) is a great option for siblings (fun!).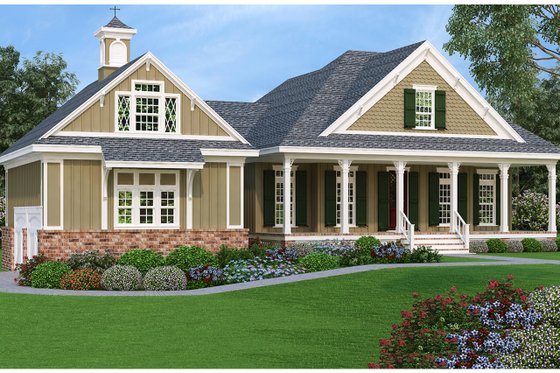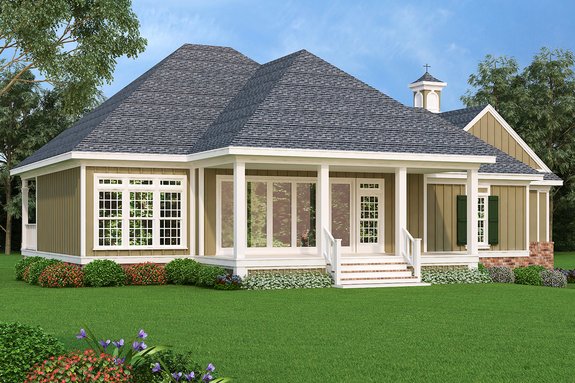 Beginning with a generous front porch, (above) this 1 ½ story house plan (plan45-572) is detailed in comfort. On the exterior, gable roofs, decorative porch columns, and elongated windows (with large shutters), render elegance and luxury to this home design.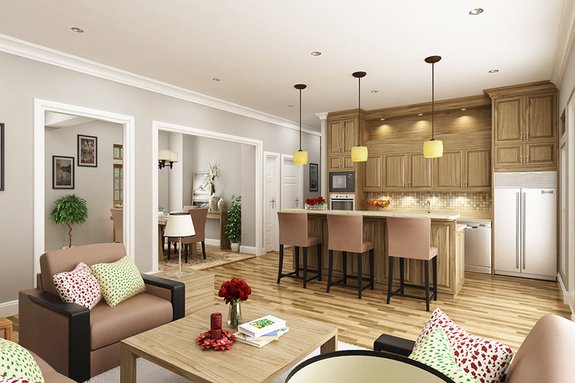 Inside, an open floor plan (above) promotes easy livability, while the master bedroom is tucked away from the others for added privacy.
With excellent flow and a modern layout, this Craftsman home (plan1067-2) combines old and new. The kitchen will become the center of activity, overlooking both the great room and the open dining room. Busy families will appreciate the extra-large pantry, which holds a desk and a freezer in addition to shelving and counter space.
Each bedroom includes a walk-in closet, with the master suite's big one opening directly to the laundry room for extra convenience when doing laundry. Also in the master suite, check out the double vanities, big tub, and separate shower.
Upstairs, you will find a bathroom and a bonus room that could be used as guest quarters, a man cave, a study...or whatever your clients desire!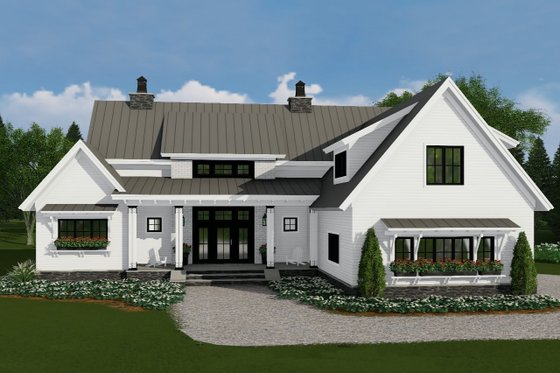 Cool and modern, this farmhouse (plan51-1130) features tons of details to make everyday life easier. What we love: barn doors throughout the main floor, the study (which makes a handy home room office), a large island in the kitchen (that includes room for seating on two sides), and the open dining room.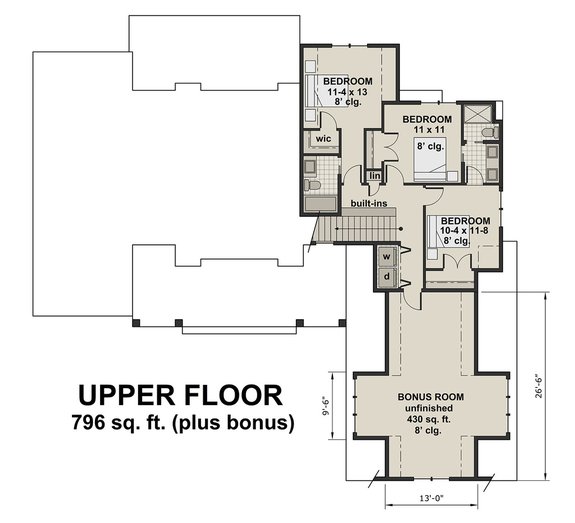 Unwind in the master suite, complete with a huge walk-in closet, two sinks, and access to the rear porch. Three more bedrooms upstairs share two baths and access to the bonus room, along with another laundry closet, making this 1.5 story house plan fun and flexible.
Browse our collection of 1.5 story house plans here.
Click here to explore our Craftsman style home designs.
Explore our collection of farmhouse designs here.
For more bungalow home plans, click here.