By Boyce Thompson
If demographics are destiny, building homes for multigenerational households may be in your future. The statistics point to a burgeoning marketing opportunity. One in five Americans, a total of 64 million people, lived in a multigenerational household in 2016, according to census data. That's a huge increase from the 42.4 million people in this cohort only 16 years before, and a big jump from the low water mark in 1980, when 12 percent of households were multi-generational. It's interesting to note that trend is growing among all racial groups, most age groups, and both men and women.
Click here to view our collection of multigenerational home plans.
The classic approach to answering this need is to build homes with accessory dwelling units (ADUs). They go by many names -- granny flats, in-law suits, and laneway houses are just a few. Lennar has earned national headlines for marketing homes with multigenerational suites, complete with a small kitchen, laundry rooms, and access to a porch. I've walked many of them; they do read as homes within a home. Many builders, especially in California, offer homes with detached casitas that can serve the same purpose. As a review of house plans shows, there are many ways to skin this cat.
Another good reason to build homes with ADUs: the suites can be rented through Airbnb and VRBO. That's right – your buyers could earn some extra money on the side. The average Airbnb host earns about $11,000 a year in rental income, enough to pay a big chunk of the mortgage. Of course, the apartment could also be used by a boomerang child who can't find a job or can't afford their own place yet. A full third of young adults, age 18 to 34, many of them saddled with debt, lived with their parents in 2015, according to Census data.
The good news is that cities are more accommodating of ADUs than they were even a decade ago. Planners and politicians have settled on the concept as a way to provide more affordable housing. That said, they may impose regulations – off-street parking requirements or caps on building size – that restrict what you can build. Some jurisdictions still require that relatives or domestic help live in the units. Other big cities of late have regulated the number of allowable short-term rentals to keep more long-term rentals in the housing stock.
The classic configuration – which also happen to be the one that you often find in the best-selling house plans – features a bonus room over the garage. Sometimes the bonus space is accessed from the second floor of the main house. The ideal situation, which you can find in plan929-4 (pictured below), is when the apartment is served by its own outside staircase. That way, when renters arrive, they can let themselves in. You could leave the key in a code-protected lock. This is also an ideal configuration for a relative who needs private space – a returning independent-minded college student or a sibling going through a divorce. The stairs would make the unit more difficult, though not impossible, to use as an in-law suite.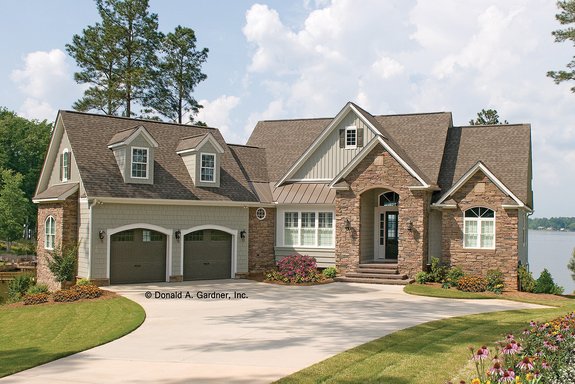 Plan 929-4
The guest quarters in plan 928-12 (pictured below) can be reached via an optional elevator. The garage and upstairs apartment are connected to the main house through a vestibule just in case local zoning regulations make it difficult to build a detached guest unit. Even so, the guest suite – which could sleep two or three with the addition of a pull-out couch – can be reached through a private stairwell in the vestibule. The suite divides into a bedroom with a walk-in closet, a sitting area, and bathroom served by a tub. The basement of the main house is big enough to accommodate another guest, making it an ideal home to build in a resort town.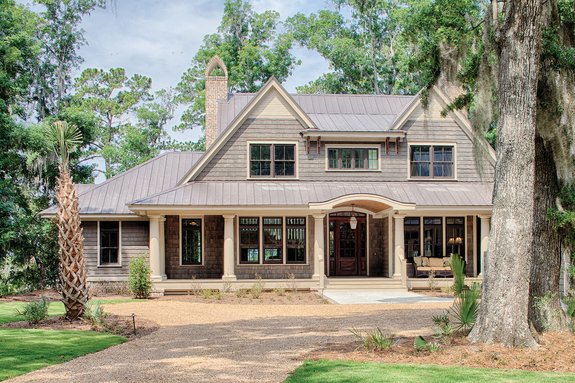 Plan 928-12
Another great configuration, one used a lot in older homes, is to build a separate two-story garage, with living space over parking. The configuration produces an ideal work-at-home space, especially for a writer, a painter, or anyone who needs alone time. Here's a detached garage plan (pictured below) big enough to accommodate a two-bedroom apartment with an L-shaped kitchen and combined dining and living space. Imagine the income this unit could produce during football and basketball season in Ann Arbor! The unit is entered through a private door next to the garage.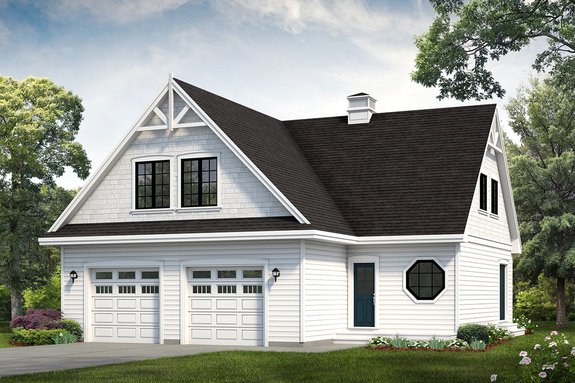 Plan47-1090
I've rented my share of Airbnb units, most of them located within the main body of a home. Most Airbnb hosts have to cobble something together from their existing home. The key issue is how much privacy the guest receives, and the owner retains. This is easier to plan for when you are building a home from scratch. The guest suite in the plan below could be accessed from a front courtyard without going through the front door. The courtyard would be a great place to hang out in the evening. The suite is removed from the main living areas of the house; the owners may not even feel the renter's presence. The suite is also served by a private bathroom. That would also make it ideal for an in-law or family member.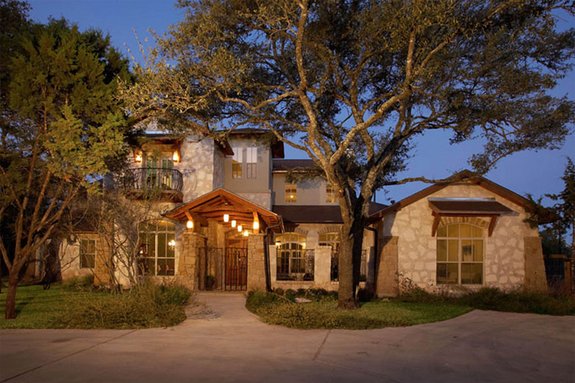 Plan472-2
Basements represent another great opportunity to carve out rentals. I recently stayed in a wonderful old home in Asheville with a huge basement – it had once housed a home bakery. The owners had carved out a bedroom down there for one son. After he finished college, they converted the room to a guest suite. There was a separate basement entrance to the apartment, and the driveway in back was big enough to park several cars; it has previously been used by delivery vans. A steeply sloping lot meant that there was plenty of natural light on the basement level, which included a huge open space with a tall ceiling.
Here's a plan that takes advantage of a sloping lot to create a basement walk out. Maybe teenagers live downstairs at first. Then when they go away to college, the two bedrooms can be rented. Guests would have their own private entrance. The basement would work great as a guest suite for elderly parents who need their own room because one or both snores loudly. The wet bar in the plan could be upgraded to a kitchen with countertop cooking appliances. There's enough room for a small dining table adjacent to the wet bar.
Plan117-840
One of my favorite places to stay on the road is a private home in Nashville with a two-bedroom suite on the second floor. During a remodel, the host lifted the roof of their story-and-a-half bungalow to create a full second floor. Their home is similar to the plan 927-983 (below). It's easy to imagine a renter entering the home through the front door and going right up the center staircase without bothering the host family. In the morning, renters could slip outside to enjoy coffee on the front porch. The two upstairs bedrooms share a full bath and are served by a den with a couch for watching TV, a desk for getting work done, and an electric piano for composing your next hit song.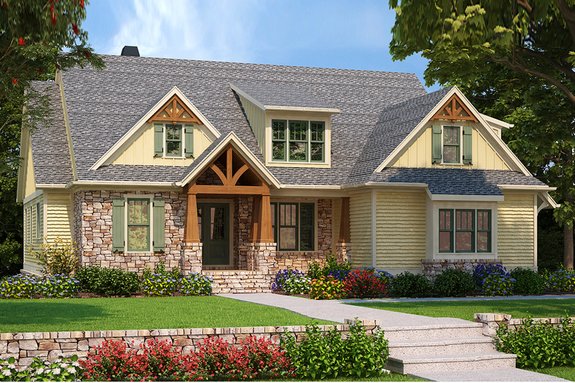 Plan927-983
Browse our in-law suites collection.
Explore basement home designs.
See our garage apartment collection.